the anticipation of moving is just about killing me. i can start moving in on the 10th, though i'm paying rent on iberville until the 20th (my 30 days notice). the days can't move fast enough.
it feels like the pace of my life has picked up considerably in the past week or so. every day feels hectic now. i've started to pack up, though not terribly quickly. but the boxes are starting to pile up in corners. fae is completely moved out with the small exception of a few storage boxes in our walk-in closet, which we will get to some day in the next week or so. the house is, therefore, half empty. it feels very weird still being here, trying to maintain my routine and schedule in a half-empty, partially-packed up apartment. the cats are very confused and a little freaked out, particularly when my landlord brings people through looking at the apartment.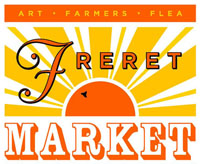 and, i must be crazy, but i somehow got talked into doing the freret market this saturday. i haven't done a market probably since freret back in march or april (can't remember, but it's been a long time), and i haven't really made anything new since then either. i've been in a creative funk. so i've had all this stock that i made in the spring, thinking that i was gonna stay on top of sales and stay well stocked and maybe start getting some into stores, just sitting around gathering dust. so i'm making this market a clearance sale. if you like my stuff and want to stock up for holiday gifts, now would be a good time to swing by and grab some stuff. make me a REASONABLE offer on anything and i won't refuse. i need money for moving, and i also really don't want to move more than i have to… so if i can liquidate some stock, less stuff to move!
i'm gonna have a $3 bargain bin of tshirts, ties, tanks, shorts, pants, and any other printed apparel i can find. cufflinks are gonna be $10. and signs and clocks and prints will be at least $5-$10 off. really – make me an offer on anything. i just want to move product.
and, just so you know… i'm thinking of not making the clocks anymore. i'm kind of tired of them, and there are now several copy-cats around town making other sorts of record clocks and selling them for way less, therefore glutting the market. i will still make custom orders – like if you just really gotta have a black and gold fleur de lis clock or blue nola heart or red scoot clock, fine, i'll hook you up – but i'm just so tired of lugging all the boxes around and having to store so much inventory. SO… all this is to say, i've got about 30-40 clocks of various sizes/designs/colors left, but when they are gone, that's it. come out to freret market on saturday, noon til 5pm, and get 'em while they last.
one last thing – and those of you who follow me on facebook will already know this – but i'm selling one of my folk art chairs from my early days (pic below). it was always one of my favorite chairs i decorated – i used to comb the thrift and furniture stores for wooden chairs with good lines and not much paint/varnish that i could strip and then custom paint in my then-geometric folk art style. this one's a little woo-woo goddessy, but i still love the colors and the paint job has held up remarkably well for being 17 years old! one of a kind and a mags original! i'm saying $125 but really, if you like it, make me an offer. i really just don't have space for this in my new place and i think it's time it found a new home.