if you've been following my blog, then you know i've been posting a lot of t-shirt designs from mostly local designers in response to the bp gulf oil disaster. i started doing so originally because i was trying to come up with my own design, and was inspired by the work of some of my peers and also thought it was a great way to raise funds for various grassroots organizations involved in the response. (i only feature designers who are donating a portion of the proceeds to some responding organization.)
well i still haven't managed to come up with a design i'm happy with (though i did make a rudimentary stencil for the back of my sierra club "clean it up" t-shirt so i could wear it to the protest in the french quarter two weekends ago, which you can view here), but other folks continue to churn out the t-shirts… and i will get back to featuring some more of them in a bit.
i'd like to switch gears just a little, while remaining on the design continuum, and feature some of the excellent and interesting graffiti that's been sprouting up in response to the disaster. of course i've noticed some locally here in new orleans, but thanks to flickr, i've seen pieces from all over the gulf south and around the country.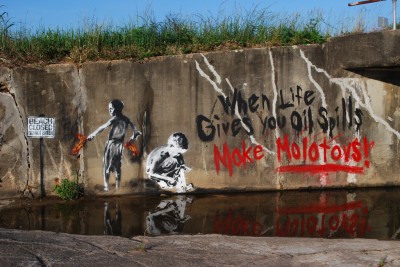 this was the first i saw posted, and it's by an artist named priest. he is often confused with – and obviously inspired by – banksy. priest is from alabama. i really like this one a lot. it expresses the anger we are all feeling down here, and is well-executed. take a look at that link to priest's flickr and you'll see he has a few others on the oil disaster theme… and i'm sure there are more to come.
this one just really hits the mark, by an artist called BonusSaves from kalamazoo, michigan. it's quite brilliant – a northern gannett coated in oil. i love the concept.
this one, too, is very effective… and a really beautiful depiction of a sea turtle, swimming amidst the oil. this one is from key west, florida, and the photo is dated may 25th. i have no idea who the artist is. but it's a gorgeous piece. props to the unknown artist. (and thanks to todd sanders for snapping the great pic!)
another one from florida, the wynwood art district in miami. again, don't know who the artist is, but a nice piece. thanks to photographer justin helmick for snapping the shot on this very effective image.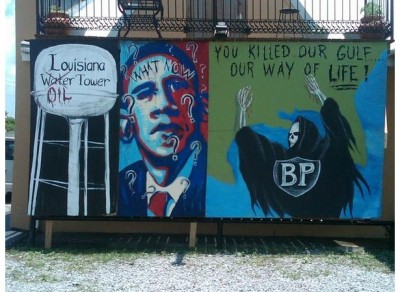 this one is from down on grand isle larose, louisiana. it was painted before one of president obama's visits down to grand isle recently. again, don't know the artist but the artists are tattoo artists eric guidry and bobby pitre. this picture definitely speaks a multitude of words. this shot was not found on flickr but instead via the mainstream news online.
there are so many more, and i'm sure lots more coming as this disaster rages on with no end in sight. check out this gallery i made on flickr that includes many of the above plus others. and definitely leave me a message here if you've seen/snapped others wherever you are.