i really don't know. i am HORRIBLE about updating here. really – if you've stumbled across this page and think you might be interested in what i do, please don't rely on this website for your means of information about me! it's been MONTHS since i updated here. (scroll down to the bottom of this post and i'll list the other ways you can follow me more in real-time.)
but just cuz i don't update here regularly doesn't mean i haven't been doing stuff. let's see… since the "educate agitate organize" shirt design, i made a "dyke witches don't play" button on a whim, and then i made a more generic "witches don't play" sticker with the best hashtag ever – #youVEXweHEX. and then i even cut a stencil so i could print off a few tshirts of the "dyke witches" design so my friends could have them to wear at voodoo festival.
yeah, they are kinda silly but in these past few months, what with the protest and outcry about the kavanaugh hearings and every crazy thing 45 does and the midterm elections, i've just really been feeling the power and fierceness of the witches in my life and wanted to make a little something for them/us. i mostly have given the buttons and stickers away and sent them out to my patreon supporters, but maybe at some point i'll sell a few. i do have a few tshirts on hand of the "dyke witches" design and both designs are up on my teespring store for sale.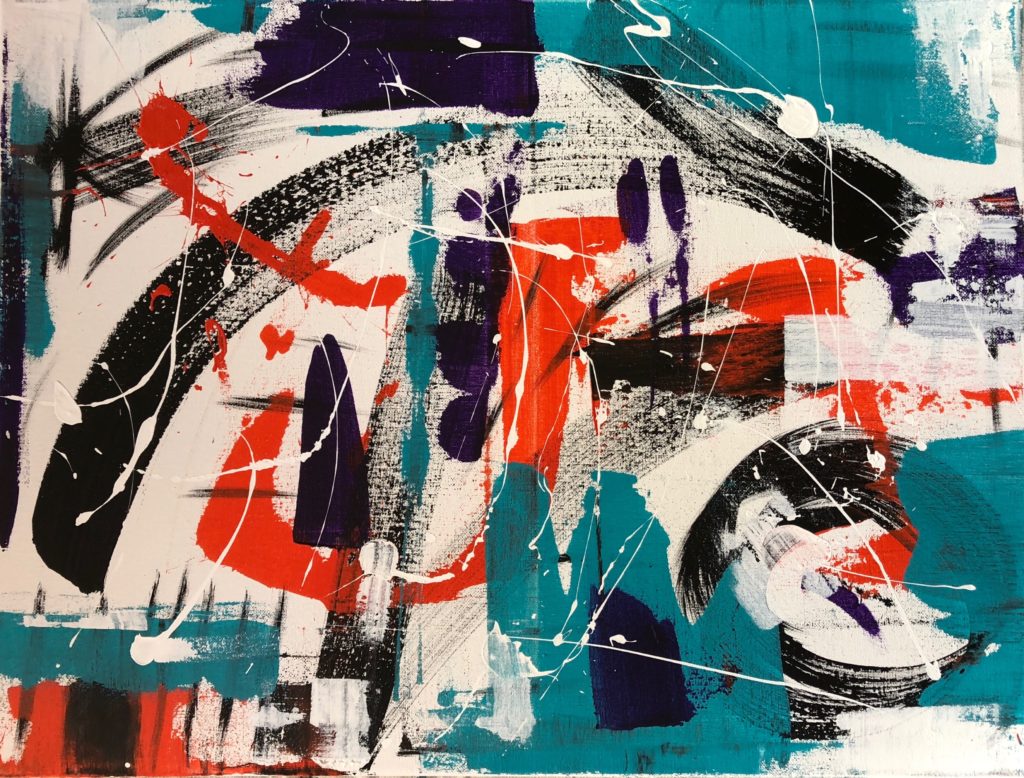 the other big development is that in a completely surprising turn of events, i've been experimenting with abstract expressionist painting in my living room. small canvases for now, cuz my living room is really small (!), but i put a dropcloth down and work on several canvases at once… and it's been really fun! and i did post a few pics on social media and folks seem to like them! i haven't gotten to the point of feeling comfortable enough with this style to want to sell anything yet, but well, the holidays ARE coming up so maybe that's the perfect time to try to get rid of everything that's piling up in my living room studio! stay tuned for announcements about that.
i'm trying to get myself together for the holidays, but it's so hard when my day job gets so much busier at this time of year too. at this point, i only have one holiday market scheduled and it's not even in new orleans – it's in chico, california on december 1st! i'm traveling out there to visit my best pal and her partner, and they signed me up for this bazaar at an artist's studio. so i'm trying to figure out what to bring out there, what i can fit into one suitcase. more on that when i have more of the details.
i guess that's it for now. but if you want to follow my art adventures in a more timely fashion, please follow me on: facebook, instagram, and/or patreon. oh, and etsy.