first of all, i just want to offer my humblest of thanks to everyone who supported me with orders earlier this summer as i was fundraising to get myself on vacation and off to michfest. between the brass band saved my life and army of lovers tshirt campaigns on teespring and my online yard sale of old art/craft stock hanging around the house, i made enough $$ to cover my rent and bills for august so that i was able to absorb the loss of income while i was gone for 3 weeks to the woods. i had such a lovely time at what was probably my mellowest michfest ever – and i really needed that. so thank you, every one of you.
i have returned from fest refreshed and rejuvenated, though still broke. thankfully i have 2 work weeks left in the month to hustle up $$ for rent and bills for september, and the dog walking and pet sitting bookings are coming in, so i should be ok. but i am going to try to continue to do the side-hustle with the creative endeavors just in case, and also because it feels really good to be doing creative things again.
so the first thing i want to offer is that after i designed the "army of lovers" tshirt, i had the brilliant idea to get high-quality stickers made with the same slogan, with the intention of selling them at fest for $1 each. unfortunately, they didn't get printed on time and though they did manage to find their way to me while i was in the woods, it was a little late in my time there and i just didn't have much of an opportunity to sell them. i printed 250 of them and have probably only sold about 30 at the most so far – not even enough to break even on the cost of the printing.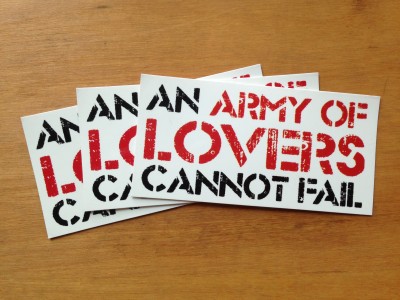 therefore, i am going to offer them here. the stickers are 4 inches by 2 inches, slightly wider than a standard business card, silkscreen printed with UV coating and therefore suitable for car bumpers, motorcycles, scooters, bikes, skateboards, helmets or any other outdoor use. (i personally put one on my nalgene water bottle i take with me everywhere.)
since i have to mail them to you, which will cost me the envelope and a stamp (and paypal fees for electronic payment), i'm going to do 1 sticker for $2, 3 stickers for $5, and 6 for $10. (if you want more than that, just email me.) when you hit the "buy now" paypal button below, just input the dollar amount that corresponds to how many stickers you want. it should be that simple. make sure your paypal address that comes to me with your payment is your correct shipping address.

and that's it! (alternately, if you have a paypal account, you can just sign in and "send money" to me at mags at artbymags dot com in whatever denomination corresponds to however many stickers you want.)
stay tuned as i will be running the tshirt campaign again soon with perhaps a few changes in style/color offerings for those who missed it the first time around.