wow it's been a year since i updated here. what a difference a year makes.
well, i could write a long rambling recap of the past year or even the past few months and my occasional creative forays – perhaps another day – but for now i just want to plug my new Bonfire shop.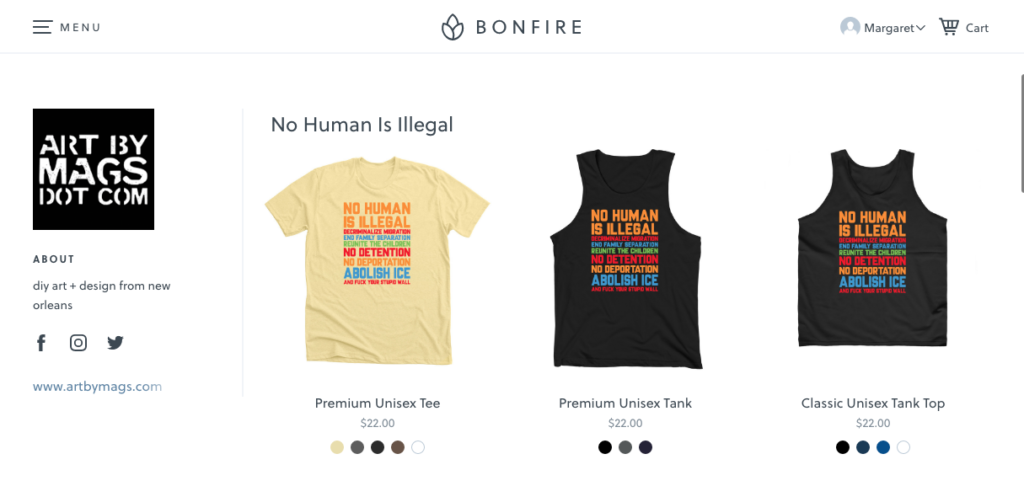 yes, i still have a Teespring store, but i decided to give Bonfire a try and i really like it. right now i've only got a handful of designs on Bonfire, but i'll be adding more in the coming months. most importantly, i want to point out that i'm donating 100% of the profits from the sale of the STOP KILLING BLACK PEOPLE and the NO HUMAN IS ILLEGAL shirts to social justice/activist groups. click through to the order pages for more info.
oh, and sticker sales have been booming these last few months over in my Etsy shop! seriously, it's becoming hard to keep up with! i can't keep my KEEP LOVING KEEP FIGHTING, RESIST, and NO HUMAN IS ILLEGAL stickers in stock! every time i reorder them, they sell out again! it's keeping me very busy and though i don't really make money off the stickers (because i like to keep the prices low to keep them accessible), i love knowing that these things are going out to every corner of the country and getting slapped onto cars, bikes, skateboards, water bottles, laptops, and phones everywhere. it's all about spreading the messages.
that's it for now. stay safe, everyone. and stay home as much as you can. unless, of course, you are hitting the streets for a protest. because black lives do indeed matter. (but, you know, wear your masks, stay physically distant, and wash/sanitize your hands frequently if you are out there.)
#blacklivesmatter