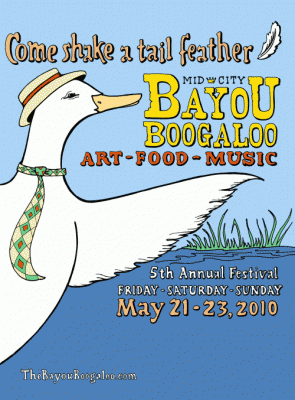 i love the bayou boogaloo. for all the years i was away in kentucky post-federal-flood, i was so sad i could never seem to make it here during memorial day weekend (too soon after jazzfest) so i could partake – either as a vendor or just a mid-citizen – in the boogaloo. i mean, come on – a music festival in my own neighborhood! (well i guess an argument could be made that jazzfest is also a music festival in my own neighborhood, but the boogaloo is more of a community, grassroots event, and even closer to where i live than the fairgrounds.) last year, i was FINALLY able to participate as a vendor, and it was glorious. so much fun, so many sales (thanks everyone!), and so great to see so many of my mid-city neighbors!
this year, i have been looking forward to the boogaloo for months. the new orleans craft mafia is again, like last year, offering a free t-shirt recycling workshop adjacent to the kid's tent, in the "eco" area of the festival. (see the festival map below.) we'll be out there both saturday and sunday – saturday from noon til 5pm, and sunday from 1-4pm – teaching people how to make tote bags, halter tops and other fun stuff out of old t-shirts, with a minimal amount of sewing. we have a good stash of donated t-shirts already, but we're still accepting donations – just bring 'em on out to the fest and throw 'em in our bin. if you don't have any t-shirts to work with, don't worry – we got ya covered. oh, and at the end of the weekend, we'll have a little fashion show at 5pm on sunday for you to strut your stuff with your new creations, too!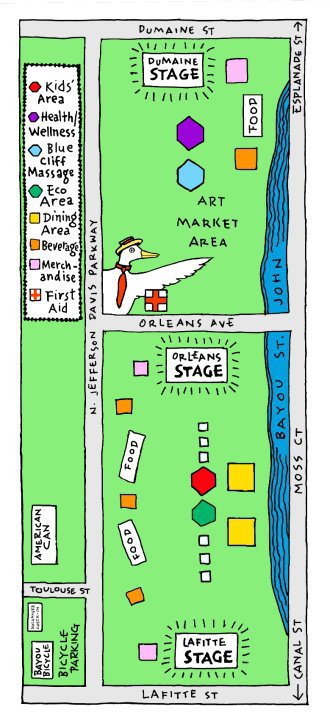 so yeah. i've been looking forward to it. but at the same time, freaking out… because a) i had a really successful jazzfest show at jen's and sold a lot of t-shirts and signs – which is good, yay for money and sales, but also has left me with not as many of the signs and t-shirts i would like to have to sell at the boogaloo; and b) i started this census job that has been kicking my ass! it's been a long time since i had any kind of "real" job (meaning worked a job outside of my own house), and it's been a hard adjustment getting used to both that aspect as well as the strange start/stop nature of census work. for example, on any given day, i: have a daily meeting at 9am for a half hour; might go out to make rounds on a new block i've been assigned in the morning for a couple of hours; come home for lunch; spend an hour or so going over all the paperwork from the morning to make sure i have it all correct; go back out to a different block for 2nd or 3rd or 4th rounds, trying to find folks who weren't home the first time; come home again to cool off and do paperwork; go back out in the early evening trying to catch folks coming home from work who i'm having a particularly hard time trying to find; come home, eat dinner, and maybe even go back out again after dinner before dark, for the pesky hard-to-find folks. and then spend more time on paperwork when i'm home. (and then collapse!)
and all of that only got me like 6-7 hours of actual on-the-clock work. but i've been working since 8:45am! so it's been a big adjustment, to say the least. and has left me little time to think about things like ordering t-shirts to print (much less finding time to actually print them), cutting/sanding/painting wood for signs, and making clocks. and, to top it all off, though i did well at jazzfest at jen's, it's the only good market/sale i've had in months, so i've been begging/borrowing/stealing to pay my bills and am deeply in debt… and we've only gotten one paycheck so far from the census. so i didn't even have the money to invest in buying t-shirts to print, or paint to make signs, etc. (much less the booth fee for vending at the boogaloo.)
so this all came to a head on saturday night, as fae and i were hanging out at home and i was surfing the internet, trying to find some wholesale outlet that actually had the style/color of t-shirts i wanted to order (all my usual outlets were sold out of at least one size and most of them several sizes) so i could order them in time for them to actually arrive in enough time to be able to print them… and i realized, what am i doing? i don't even have the money to pay for these. nor do i have the money to pay for my booth. and even if i could scrape that up, there's no guarantee that i'd make it back… just because i sold a lot of 70119 t-shirts last year at the boogaloo doesn't mean i will this year. sales at markets has SUCKED overall so far in 2010, so why would the boogaloo be any different?
and, as an aside, i have been wracking my brain trying to come up with an oil disaster related design, which i thought might be the biggest seller due to the timing, but i haven't even been able to find the time to work on coming up with that. (and even if i did, i'd be donating the proceeds to the gulf restoration network, so it wouldn't be something i'd be making money off of. which i still really want to do, but, it was just one more piece of the puzzle that wasn't coming together for me.)
so. all of a sudden, it came to me. i can't do the boogaloo. i can't afford it, i don't have inventory, and i don't have time to think about it. and the second i started thinking about not doing it, i instantly felt relief. i immediately posted something on my facebook page, and thought i was done with it. i slept better and the next few days i didn't think anything about it. it was actually really nice. sad, but also stress-relieving.
and then yesterday, my friend rachelle offered to share her booth with me, which was so sweet. i thought about refusing, but then i figured if i don't really need to spend any time making stuff and i just take what i've got and make as much fit as i can in part of rachelle's booth, around her stuff, then it doesn't have to be stressful and maybe i'll still make a little money anyways. and i always have fun hanging out with rachelle at markets – we almost always set up next to each other. so thanks, rachelle.
so now i am once again doing the bayou boogaloo. and of course, i am going to try to make a few signs this week, maybe a few 70119 clocks. but i'll only have a literal handful of t-shirts, and a weird assortment of clocks and signs and cufflinks… and that's it. not a big effort. but at least i'll be there.
hope to see y'all there!