i've been making clock faces and signs like crazy this past week, in anticipation of my big weekend ahead. tis the busy spring season!
last friday, i dropped off a fresh batch of clocks to my friend erica at tulane's in exchange shop. if you're on tulane's campus, you should check that shop out. not only do they have an astonishing inventory of defend new orleans t-shirts (apparently they are part of the tulane undergraduate uniform), but erica stocks lots of local artists and crafters work as well as fair trade items from makers around the world. she's got lots of cool stuff there. even if you don't have a reason to be on tulane's campus, checking out all her unique inventory is a good excuse to stop in. it's located in the student center on the quad side – there's a map on her website. (and keep an eye out for in exchange out at the congo square crafts area at jazz fest!)
yesterday, i dropped off a bunch of my stuff to my friend jen, who for the past several years has hosted a fun, funky little art show in her living room during the two weeks of jazz fest. she lives over near the fairgrounds, close enough to catch a lot of the entering/exiting traffic to/from the fest, and knows a gazillion people, many of whom make a point of dropping in to sit a spell on her multicolored porch during and after the festivities. it was a brilliant idea when she conceived it, and i'm so grateful she continues to host the show every year in her home.
this year, the artist count is up to 17, the most yet. some folks might only have one piece in it (larger stuff), but many have lots of smaller pieces, all of which take up every available inch of space on her living room walls. this year, i have a few clocks, a nice array of signs and some skull and 70119 t-shirts for sale there. the opening for the show is this friday evening from 6-9pm, and then the show will remain up through both weekends of jazz fest. (but it's good to go to the opening, as all the best pieces always get sold that first night!) leave me a comment if you want an invite to the opening on friday or need to know her address. (since it's in her home, i don't want to broadcast her address over the internet, but am happy to let interested parties know on an individual basis.)
wednesday, i'll be helping out my craft mafiosas, stuffing our fashionable new tote bags (pictured above) with all kinds of free swag from indie businesses around the city and country, which will be given out to the first 100 paid attendees of the alternative media expo this saturday. the new orleans craft mafia is a co-sponsor of the event, and this year's swag bags are gonna be the best yet (and in high demand)! we've got all manner of stickers, buttons, product samples (jewelry, tiny art, books, etc.) and other cool promotional items to fill them with. so definitely get there early so you can get a swag bag. you're gonna be bummed if you miss it.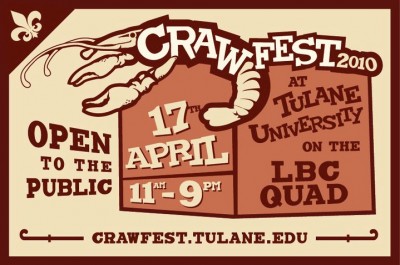 sadly, i will not be vending at the alternative media expo this year. i love that event and usually do participate, but this year it's occurring on the same day as tulane's crawfest event, which was very lucrative (and fun!) for me last year. i had to make a tough business decision and decided to do crawfest. so though i will miss being with everyone at the alternative media expo, i'm hoping for great weather and huge crowds at crawfest. they've got an AMAZING musical line-up (dirty dozen brass band, jon cleary, the radiators, trombone shorty, and more!) and 16,000 pounds of crawfish! the event itself is free and the crawfish is free with a tulane student i.d. ($10 for all you can eat for everyone else). last year was a beautiful day on the quad so i'm looking forward to another one just like it. friends rachelle (of greenkangaroo) and christeen (avantegarb) will both be out there too, so stop by and say hello if you make it over there.
if i manage to get out of crawfest before it's over (it goes til 9pm, but last year we packed up as it was getting dark), i'm gonna try to make it to the big easy rollergirls' bout that night, too. they are taking on the hard knox rollergirls of knoxville, tn – a formidable opponent. advance tickets available through their website, or you can pay at the door for a few more bucks, too. it's always a good time out there. i just hope i have the energy to make it there after my long day!
by sunday, i'm going to just want to pass out! but i better rest up, cuz the following two weekends are jazz fest! oh goodness. well, it's all in the pacing, my friends. happy spring everyone!