i don't know the answer to that question. i'm just asking.
in the mean time, i will continue to bring you t-shirt designs i find interesting from designers/companies who are using their creative skills to raise some money for non-profits and other organizations responding to the oil disaster.
the local t-shirt makers are still coming up with the best stuff, in my opinion. local silkscreeners saturn screenprinting have a couple sharp looking spoofs on the bp logo on vibrant green shirts (above) – one that says "spill baby spill" and the other the more direct "fu bp." there are lots of shirts using the bp logo now, but these catch my eye as being similar enough so that you know it's a bp logo without having to actually BE the bp logo -Â  i like that. all proceeds from the sales of these shirts will go to the gnof gulf coast oil spill fund. you can pick one up online for $20 including shipping, or stop by their central city location and get it in person for only $15.
i was wondering how long it would take for fledgling t-shirt empire storyville to come up with their own fundraising shirt for the gulf, and lo and behold, they have. this is one of my favorite designs i've seen so far; i just really dig all the little drawings of fish, crabs, crawfish, shrimps, oysters and other local sealife that make up the shape of louisiana. (and the color palette is pleasing, too.) they too are donating to the gnof gulf coast oil spill fund, with $5 from each $23 t-shirt sale being donated. you can pick one up at their magazine street location or order online.
i noticed storyville also just added this one too, which spells it out loud and clear. this one is on one of those trendy burnout shirts in a color scheme that resembles dirty water; it's a cool effect. these are $30 and some portion of each sale will go to the same charity, the gnof gulf coast oil spill fund, though it is unclear how much. again, available in their shop on magazine or online.
i first saw this design on skip n' whistle's facebook page; they were saying it was the only design they carry in the shop at this point that is not their own. so i wondered who had made it. i'd seen others posting about it, saying they'd seen it on cnn and local tv news, so i did some googling and found that it belongs to nola tee, and is benefiting the st. bernard project, to help commercial fishermen affected by the oil disaster. it appears it comes in different colors and in both men's and women's sizes. click the picture above to go to their site for ordering, or call or stop by skip n' whistle to see if they still have any in stock.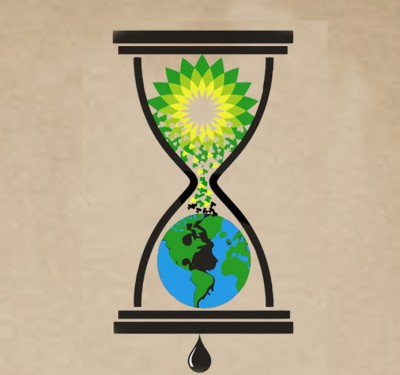 speaking of skip n' whistle, they continue to come up with more of their own original designs in response to the oil disaster. i've featured two of their other designs in previous posts, but this is their most recent one, time is running out for bp. they continue to donate a portion of their sales of these bp response shirts – $10/shirt on this design – to the humane society of louisiana, who are helping with wildlife rescue in the oil affected region.
of course, locals aren't the only ones making fundraising t-shirts in response to the oilpocalypse, but i think i'll leave that to a separate post, as this one is already getting long. if you know of other oil spill/bp related t-shirt designs that i haven't covered that you think are cool, feel free to post them in a comment here.
stay tuned for more.