my latest design is simple but bold. i actually started working on it BEFORE the election, fully thinking hillary clinton would be our president. but, well, now it has even more meaning. my friend julie recently (post-election) snapped a picture of a sign on a house on st. bernard ave that said: resistance must now become like breathing. i don't know if this is a famous quote by someone that i should know (i googled it but found nothing), or just the wise words of a local person who felt the need to scrawl it out on a handwritten sign and tack it up on their house, but it's the truth and it really resonates with me.
i made the above resist sticker for my patreon subscribers, but of course ran extra knowing folks would probably want these. well i've already sold out of that initial run of 200 and am half way through the second 200; i now have a run of 500 on the way. pretty sure this will be an ongoing effort. i mean, we've got four years of this fascist crap to resist, right?
you can buy them from me directly for $1 each. (they are up in my etsy shop but cost $2 each there due to paypal and etsy fees.) email me if you want stickers.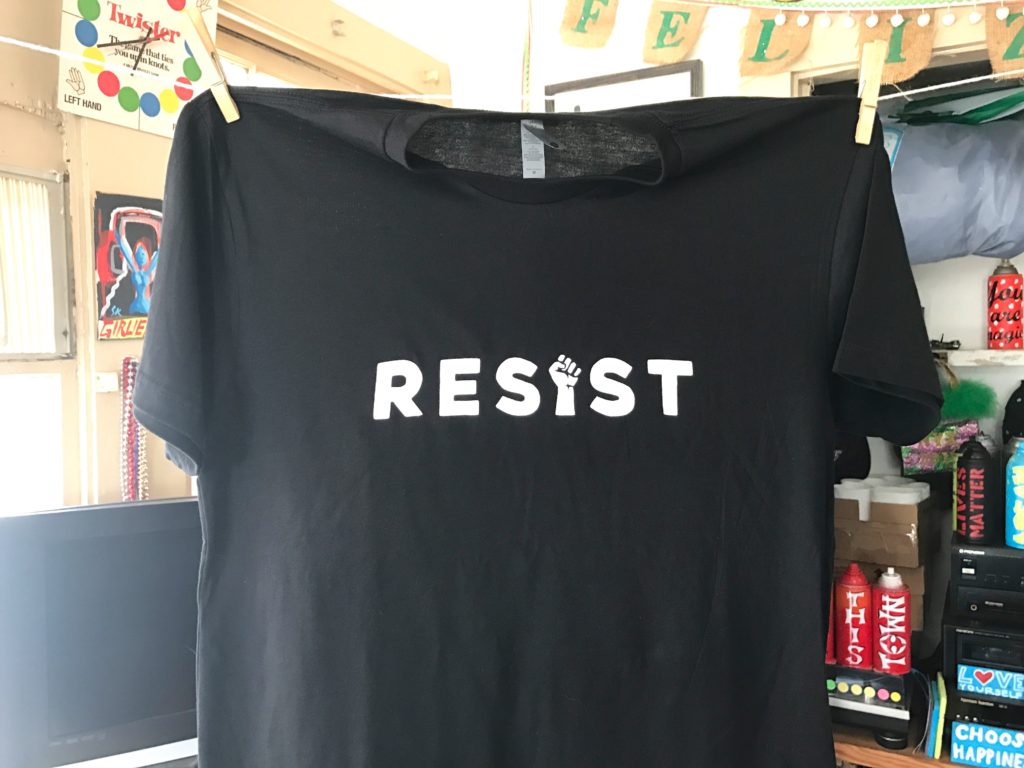 i also hand painted a screen and have printed t-shirts. for now, what i'm selling are black, 100% cotton, Next Level brand, soft lightweight t-shirts with white water-based ink. i have mens and women's crew cuts in sizes small through 2XL. $20 per shirt. they are also up in my etsy shop but you can get them from me directly by emailing me.
now is not a time for complacency. or for silence. or for normalizing this incoming administration and president. now is the time for coming together, conspiring, organizing and mobilizing. we must actively #resist.