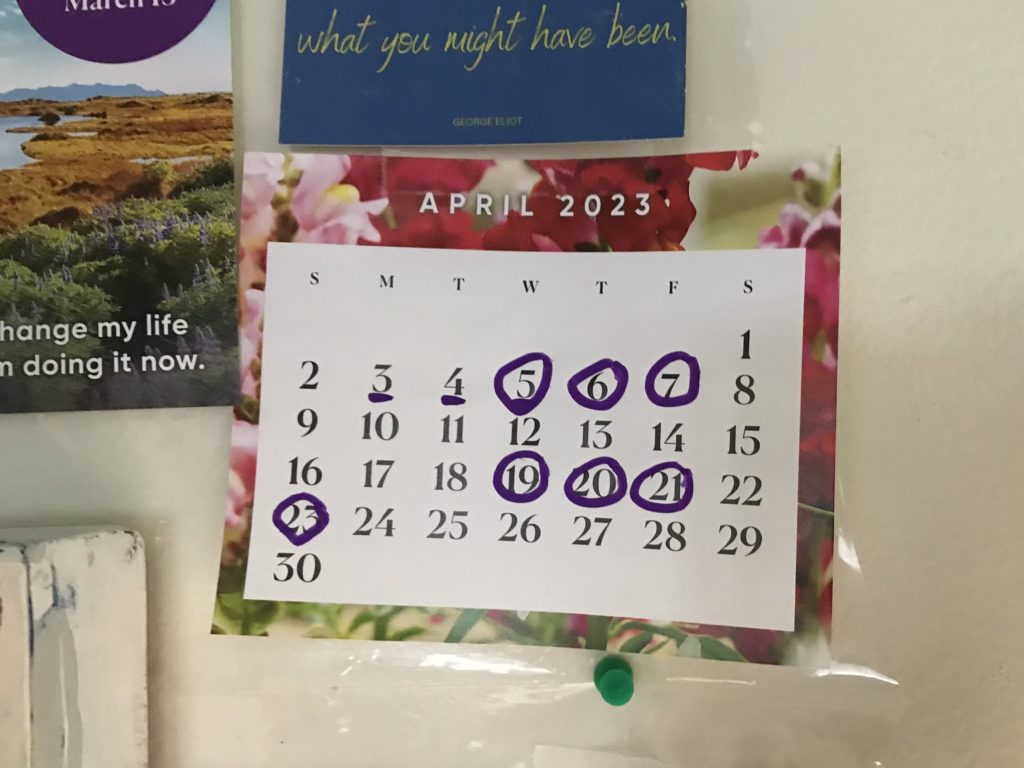 i was doing so so good on my daily art practice through the first three months of this year. i really felt like i'd managed to create a new habit. it was coming pretty effortlessly and i hardly even had to think about it. i was having my coffee and breakfast in my studio first thing and then jumping right in usually on some playtime in my sketchbooks. and when my work schedule was slow and i had downtime in between clients later in the day, i'd come home and pick right back up where i left off. some days i could get several hours of painting in. but even if all i could do was 30-60 minutes in the morning, it felt like i was keeping a creative thread going.
and then april came. the first weekend of the month i was away on a quickie 4 day trip to visit beloveds in north carolina. it was a long awaited reunion with many faces i hadn't seen for a long time, since before the pandemic. it felt really indulgent to take this trip even though we managed to do it as cheaply as possible. (since we split hotel, gas, and park-n-fly and flew spirit/breeze with no luggage, it ended up being less than $300 all total, though i had the added expense of a catsitter 2x/day.) but i knew it would be good for my mental health and my heart. i needed the hugs and the socializing, and just to get out of new orleans for a few days which i hadn't done since the summer of 2021. so it was all totally worth it.
i came back to two of the busiest work weeks i've had since before the pandemic. so many petsits! i really needed it financially. some of my clients paid up front and that money is what got me through the end of march and paid rent so that i could even go on the trip. and then having the other petsits on top of my dogwalking schedule gave me enough to cover all the bills that happen at the beginning of the month.
if you've followed my pet biz commentary online, then you know i lost quite a few longtime clients last year – many who had been with me since i started my business and most of which were 5-day a week walking clients, which really affected my income over the trajectory of last year. even though i did manage to pick up a handful of new clients, they weren't paying for as many days or services as the previous clients, so despite still having 5 or 6 walks a day on my schedule, i was making less than half of what i had been making before.
this all came to a sad culmination in january and february, when all the christmas bonus money and extra holiday petsitting income ran out and i was left with basically half my former income. i raided my hurricane emergency fund and started putting things like groceries and gas on credit cards, just hoping things would eventually resolve. over the 12 years of this business, i know it ebbs and flows and sometimes it's feast or famine; i just wasn't accustomed to the downslide being for so long without a rebound.
but finally, i am seeing some light at the end of the tunnel. the last two weeks of crazy petsitting got me caught up on bills. one of my 3x/week dog clients that i actually tried to quit back in january (because he was more than i could handle physically) has come back onto my schedule after he got some training and is maybe aging out of some of the worst of his hyper puppy behavior. (we'll see, but he's back for now.) and one of my other 5x/week clients whose dogs both died (in august/december) and who swore they weren't going to get another dog anytime soon texted me last week with a picture of the cutest puppy ever! (i've since started visiting/walking her 2x/day!)
so all of this feels like the tide is turning back to a place of equilibrium, at least financially. sure it will mean less free time to paint, but i also won't have to keep looking around the house for things i can sell to make money to pay the bills. the petsitting is slowing down for the next few weeks so i will just have my dogwalking schedule, and i did manage to buy one ticket to jazzfest each weekend thanks to a generous friend who i will be doing some petsitting for in june. so hopefully i can start getting back into the flow and pick up that art thread where i left off at the end of march.
i do really feel like i'm so close to figuring out what i want to be doing next. there are so many things i've been exploring – collage, image transfers, layering paint, creating textures with paint and patterns, exploring color mixing, new media like paint pens and oil pastels and colored pencils, new (recycled) paints, as well as new tools for applying paint – it's all been so fun and now i feel like it's just about figuring out how to use all this new information i have in service of what i want to be creating. i know i want to do some pieces about my friend nita that died back in september. i always want to do pieces about my mom and lately been feeling like my dad too. but i also want to just do some pure abstract stuff that doesn't have much of a meaning beyond the materials and the brushstrokes and the exploration of what paint can do. as always, i don't know where to start and feel overwhelmed with all the ideas i have. but i know i just need to pick something and do it.
anyways. this is just a rambly update to catch you up on what's been going on for me in the art life. oh, i almost forgot – as some of you might have seen, i did a quickie flash sale on instagram for 2 days of older work that has been on the walls of the studio, taking up space. i thought i wanted to hang on to some of that stuff for a while but i realized it was holding me back. i often feel like i need blank walls to not clutter up my brain when i'm trying to come up with new work. if i have stuff up that i still like, then i don't have the motivation to make something new. cuz always, for me, part of my motivation is making something that I WANT to hang on my own walls. so thank you to all who participated and snapped up some of those pieces. i offered 18 and i sold 8, so not bad. if you missed out, hit me up to see what's left.
i hope to have something new to show you soon! stay tuned!