wow, it's been a while since i wrote here last. sorry bout that, y'all. but ever since i made up my mind to go into the dog-walking/pet-sitting biz, it's kinda all i've been doing. there's been no time for making of art or craft. i pretty much have been walking dogs 9am-4pm every weekday, sometimes more, and pet-sitting on the weekends. and when i'm not actively caring for people's pets, i'm recuperating from being out in this scorching heat all day. it does really take a lot out of a person. it's been hectic, and i'm just now getting to a point where i'm learning how to tailor my schedule to have some downtime.
but i know it will get better. i will figure out how to have more free time, and how to balance out the work with the creative time and the leisure time. it's a whole new world for me now. and it will just take a little while for me to figure it all out.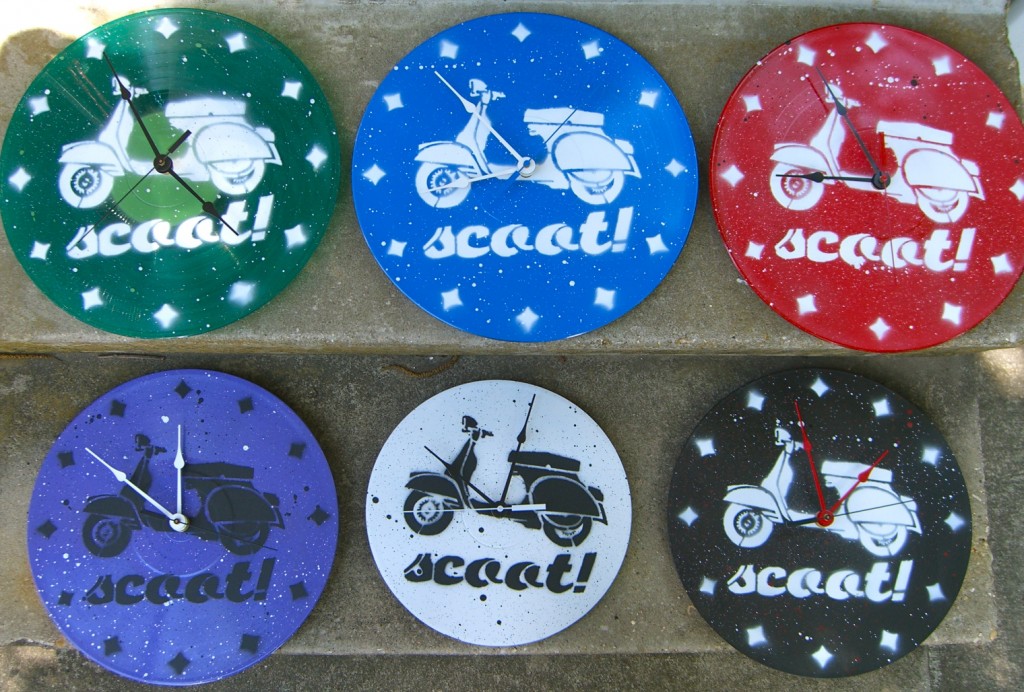 all this being said, i did actually find the time this weekend to make a fresh batch of scooter clocks, inspired by the fact that amerivespa – the national scooter rally put on by the vespa club of america – is in town here in nola this weekend. i had originally been thinking, months ago, that i was going to be a vendor at the event, setting up a booth over the weekend. but as my life took its exciting twists and turns, it ended up not really being possible. but then my friend mallory of missmalaprop.com said she had been asked to be a vendor, and since she carries some of my stuff in her online shop, i thought, well maybe i can give her a few things to try to sell at the event.
so i woke up early on saturday morning, before the heat got too bad, and whipped up a bunch of new scooter stencil clocks in different colors. (see pic above.) i have to say, it felt really good to be making something again. i had actual *fun* doing it, which was nice.
as it turned out, however, the organizers of the vendor area never got back to mallory to confirm her participation, so she didn't end up doing it. so now i have seven fresh scooter clocks in various colors that have no way to actually be seen by the scooter-fanatical attendees of amerivespa.
so i suppose i will spend some of my time this lazy sunday afternoon posting these to my etsy shop. but if you're interested in any of them before i get around to doing so, just email me. if you are local or in town for amerivespa, i can deliver. or, as always, i can ship to anywhere. $30 cash and carry. $8 more for shipping/paypal fees. (i charge $40 on etsy to cover the etsy fees too.)
hopefully i'll find the time and inspiration to make some more stuff soon. stay tuned!