while feeling fairly overwhelmed by my own personal soul-searching and introspection that i've been engaged in since i got back from michfest, it is of course katrinaversary weekend here in new orleans. and not just any old katrinaversary – as if any of them are less harrowing than any other – but this one seems way more overloaded with media coverage and memorial activity than the last few, being the fifth anniversary.
i had thought the only k+5 type of event i would be partaking in this weekend would be the rising tide conference. i registered for it back in july and have been looking forward to it ever since, and felt like that was probably all i could handle. it's an all-day event on saturday, plus i'm going to the opening party for it tonight, down at the howling wolf, with my new friend derrick, aka geekandahalf for those of you on twitter. so yeah, seemed like plenty enough for me in and of itself.
but, well, here i am, on friday the 27th, and i started my day listening to the rachel maddow podcast from last night's show, which was shot live in algiers point and largely concerned itself with the topic of k+5. i always listen to something on my ipod while i'm out for my daily morning walk, and so this morning it somehow seemed appropriate to listen to that show. (it was really good, btw – i highly recommend taking the time to listen to/watch it. i just love her!)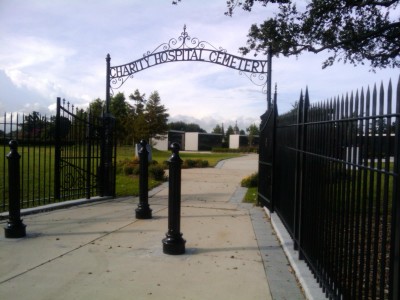 what i wasn't necessarily expecting was being inexplicably drawn to walk by the new orleans katrina memorial in the cemeteries on canal street. i somehow, even though it's in my neighborhood and has now been there for two years, had eluded awareness of this until just the other day when i heard something about it on some npr show i was listening to in the car. and suddenly, i wondered why i had never noticed it before. so this morning, as i set out on my walk, i decided to go looking for it, just so i'd know where it was.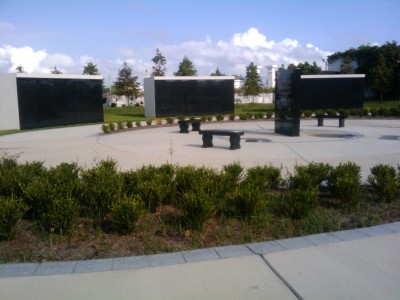 but then when i got there, i couldn't not go in. i felt pulled in. it's pretty intense, i have to say. from first noticing the awesome fleur-de-lis-with-swirling-water-below-it design that repeats itself in the iron fencing, to reading the marble marker that sits at the center of its overall hurricane-shaped layout, the memorial is certainly designed for introspection and reflection… and the blank marble vaults that house the unidentified victims of the storm and floods are a solemn reminder of the real human loss that occurred.
i obviously took a few pics on my smart phone while continuing to listen to rachel maddow, pausing for a moment to take it all in, and then i was off on a one-hour walk around my neighborhood that i love (mid-city).
i've then spent most of my day listening in on the tedxnola event happening down in the french quarter. i'd considered going to it, but in my present state of unemployment and dwindling funds, i didn't feel like i could give up the $35 to attend. much to my surprise and delight, i discovered this morning there is a live feed of the proceedings online, so i've been selectively tuning in and out as my interest level dictates throughout the day.
the topic of this event is not exactly katrina nor is it a memorial – it is focused on creativity in crisis, or what good and creative things have come out of the disaster. so there have been some interesting speakers – james carville being my favorite thus far, and i loved kimberly rivers roberts (trouble the water) – but on the whole, i think i'm glad i did not give up my $35. i'll just say… it ain't no rising tide! (holla!)
i still don't really have any plans for sunday. (guess i didn't win tickets to see obama speak at xavier – oh well.) perhaps i'll take the day off and just spend it at home, hanging out with fae. or maybe i'll feel pulled out to one of the dozens of events happening around town on the actual anniversary day. who knows. i guess i'll just have to wait and see.