ok, so years ago i first stencilled and then eventually made a screen to print up tanks and t's with the saying "we're in the fucking woods!" it's hard to explain to folks who don't go to the annual michigan womyn's music festival, but, well, the reader's digest version is that the festival is a camping music fest, a week long, in a very remote national forest in the middle section of michigan, close to the lake. it's beyond rustic. cell phones don't work there. people who live in the area are still on dial-up and there's no internet access while at the fest. all concerts and events happen in big circus-style tents. there's a lot of dirt and grass and nature. you are living in a tent and showering outdoors. it is an exceptionally low-tech experience… largely built with wood. most who attend find it a really wonderful escape from the wired reality of our daily lives.
but some find it challenging. you just simply can't expect all the creature comforts of home. we are really winging it out there in the woods. we get creative. we make due with what we've got and can rig up. so as workers, over the years, it became a saying, often made in response to a situation where something isn't as it is or doesn't work the way it does out in the "real" world. "we're in the fucking woods!", ya know?
so anyways… i first cut a stencil and spray painted these one year to help subsidize my weeks spent in the woods as a volunteer worker (we don't get paid, it's just a work exchange where we are fed and don't have to pay for a ticket in exchange for 8 hours a day of sweaty work). and then i made a silkscreen the next year and printed them up and offered them on my etsy site and at fest, again to help pay for my travel and time lost not working. but the last year i made them (can't remember when it was – it's been some years) i probably actually lost money making them, anticipating i would sell a lot more than i did and spending a lot of time customizing styles/brands/colors, etc. for gals. so i just stopped making them cuz i kinda felt like they were "over." and then, well, i stopped making everything for a few years. and actually missed fest in 2011. (i went back in 2012 but did not sell any wares at all.)
and though i am again missing fest this year due to a multitude of personal, health and financial reasons, all of a sudden the demand for these shirts is high again. so due to intense peer pressure via facebook and in the hopes of making some money that i can spend restocking art supplies like spray paint, acrylic paint, brushes, exacto knives/blades, mylar for stencils, screen printing ink, etc. to get my art life going again, i have agreed to print some up.
this time, however, i will be taking pre-orders so that i don't print up way more than i can sell.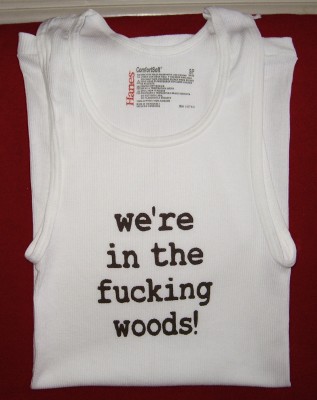 [paypal button removed so i can finish printing what's already been ordered – will put the button back when i'm caught up and can take more orders.]
the little paypal button above has a drop-down menu. the first option is whether you want it shipped to fest (if you are a worker and will be leaving before you think i can ship it to you at home) or whether you want it shipped to your home (for short crew who have enough time or for festies who definitely have enough time).
if you are only ordering ONE shirt, then use the second drop down menu to pick the size. if you want to order more than one shirt and pay for it at the same time, you have to go ahead and just pick a size and shipping option, hit the "buy now" button, and it takes you to a paypal page where you can input quantity. put in how many shirts you are purchasing at once and don't worry about the size listed – once you log into paypal or go to the purchase page, it gives you the option of adding comments to the seller and there you can explain to me what sizes you want your multiple shirts to be. (or you can just shoot me an email and tell me – the important thing is for the quantity to be right when the transaction goes through so you pay the right amount.)
(and if this is all too complicated or confusing for you, just email me and i can invoice you separately if you need me to.)
fyi, right now, i'm only going to print them on hanes ribbed white a-tanks, to make it easy and fast. i *might* entertain the idea of printing them on something else later but for now, cuz i'm trying to accomodate long crew workers who are leaving in the next few days (or have already left), i'm just doing the a-tanks. IF you are a worker and order one, i can send them up in bulk next week with a list and deuce in inventory said she'd handle disseminating them. you can just check in with her and she'll know you've already paid for it. if you are a festie, there should be plenty of time for me to ship them to you directly next week and have them get there in time, so i'm gonna do $5 for priority shipping which i know isn't probably enough to actually cover priority shipping but it makes it an even $20 so i'm going with it.
ok, order away!