my latest creative obsession has been working on this tshirt design to use on the website teespring.com – a crowdfunding tshirt print-on-demand site. don't worry, it's no cafe press. these shirts get silkscreened by actual silkscreen printers (humans!) and the quality is so much better than cafe press or other similar digital print-on-demand sites. and the twist is, it's crowdfunded, so sort of like pre-ordering – it only gets printed if enough pre-orders are made. you set your own goals for each design and your level of profit, per shirt, then varies based on your goal. and there's no upfront expense to the creator, except the labor that goes into designing it. you can use their very easy-to-use online design tool, or you can upload your own graphics.
for this design, i chose to upload my own graphic, because i'm very interested in retaining creative control over this slogan and tshirt design. so i had to teach myself adobe illustrator in order to figure out how to make a vector graphic (!). it took a little while, but i think i got it now.
and so the result is this: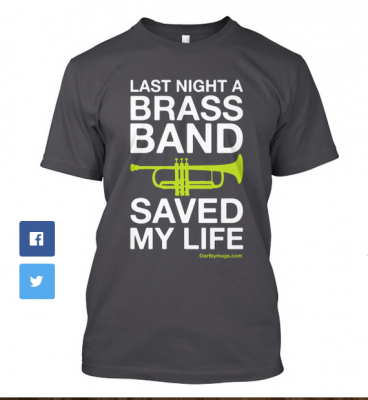 you can see the campaign here:Â http://teespring.com/lastnightabrassbandsavedmylife. several different styles and brands of shirts and a few different colors – hopefully something for everyone.