ok folks. it's that time again.
i've gotten several queries about whether i was going to print these again or not. and yes, i am, due to popular demand! as usual, i am only going to hand-print these on easy-to-acquire hanes or fruit of the loom mens ribbed a-tanks – because i don't have to work very hard to find them in town readily and i really don't have the time to figure out anything else. if this shirt style doesn't work for you, just hang on… when i get a minute to breath i'm going to work up another teespring campaign and offer the design on tshirts and other items too, since that's much harder for me to manage printing at home. but i'm going ahead and putting up the paypal button here for the tanks, for those who'd like the traditional style. (i will also mention it helps me more if you order here as the reason i do this is to help fund my time in the woods and i make more $$ on the ones i print myself. but i know lots of folks want shirt styles i can't offer so i'm going to do the teespring campaign to make everyone happy!)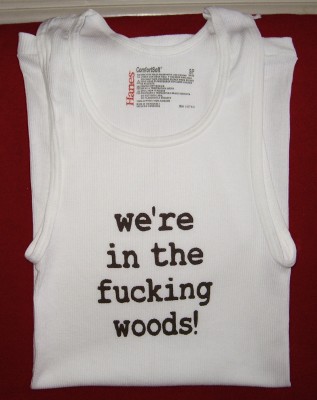 so. hit "buy it now" and it will take you to a paypal checkout page. sadly, paypal's buttons no longer work with wordpress to specify sizing so the only way i could do this was to have it be for ONE tank plus shipping. if you want more than one, just email me what you want and i can invoice you individually for it. (or i guess you can always just go through and make several orders and i can refund you the excess shipping charges.)
i will leave this up probably for about a week and then i will close pre-ordering and acquire shirts and print sometime next week so i can get them in the mail well before long crew leaves.
thanks everyone for the support and your continuing enjoyment of this silly tshirt. it makes me smile every time i see one of you in it either in person or in pictures. and stay tuned as i have another fest-related shirt idea i will be running in the next coupla weeks and hopefully bringing with me to fest to sell.
UPDATE 6/29/14: i have taken the paypal button down. if you still want a shirt, email me or leave a comment here and we can talk about it. i have 1-2 of each size  (small through 2xl) extra that i am planning on bringing to fest to sell at the worker craft sale but if you want one before then, we can work something out.