i love jazzfest time! i only get to go one day each weekend this year, and today was my day this first weekend. it was so lovely out there! overcast and windy helped balance out the warm and muggy. and no rain! hope that holds for folks throughout the rest of fest. i ate way too much amazing food, saw some incredible art and craft, and heard all kinds of great music while hanging out with dear friends. it was perfect.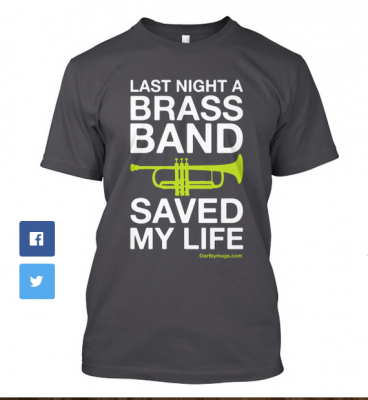 today i wore my LAST NIGHT A BRASS BAND SAVED MY LIFE shirt out to fest and got stopped a ton by folks diggin on the design, taking pics of it. so for any of you who may have followed my website address that's cleverly added to that design on the shirt, i just wanted to thank you for your interest and help navigate you to where you can order both t-shirts and stickers of the design.
t-shirts can be found here, on teespring. (and tanks can be found here.) lots of sizes and styles and a few color choices too, so check both links cuz they are two separate listings with lots of different options.
and stickers can be found here, in my etsy shop.
enjoy the rest of your jazzfest!