seriously. wasn't it just february?
so, updates:
last friday evening, the new orleans craft mafia offered a free recycling workshop at noma in the sculpture garden during their weekly where y'art? event. we taught folks how to fold paper flowers and make paper beads out of surplus brochures, posters and other paper items from noma. we didn't get a huge crowd but we had a steady trickle throughout the evening and we all had a lot of fun. we'll be back again for where y'art? on april 22nd to help celebrate earth day with another recycling workshop, so join us!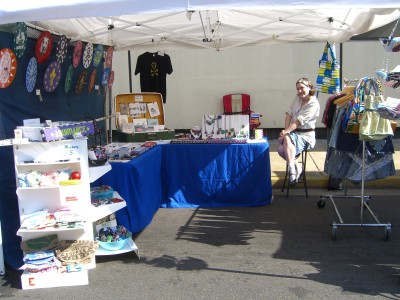 saturday's picayune street fair did not go as swimmingly as i'd hoped. in fact, i sold nothing. not a thing. (but didn't our booth look awesome?) i did have a lovely time hanging out with mallory aka miss malaprop, though, and we took in quite a few rather astonishing sights in downtown picayune, mississippi. i'm sad i did not get a picture of the confederate flag dreamcatcher, or many of the stunning fashion statements of the day. i did however take many photos of amazing fair food and other interesting things:
lastly, i'd like to mention that i got yet another shout out in the times-picayune today… this time from my pal dj soulsister, who was featured in the living section.

i can't seem to zoom out to get a good screenshot of the whole page, but this is the relevant part! dj soulsister, aka melissa weber, commissioned me a super long time ago to make her a "soul power" clock with the raised fist graphic on it. after katrina happened, she made sure to tell me that it had survived! (she is so sweet.) and then a few years later, she bought the above turntable clock. she has always been a supporter of my work, and i have always been one of her biggest fans, both of her radio show on wwoz and her hustle parties at mimi's. i'm so giddy happy for her, seeing her career continue to flourish, and honored and grateful to have been mentioned in this article. so thanks, melissa!
and here's what's coming up on my calendar for april:
crawfest at tulane, on the 16th  – always one of the highlights of my spring market calendar. what's not to love about thousands of pounds of boiled crawfish (all you can eat for $10) and tons of great new orleans music (rockin' dopsie, rebirth brass band, roots of music & more!) on the quad all day at tulane in glorious spring weather? me and several of the new orleans craft mafia will all be there, peddling our wares and eating our weight in crawfish that day. come see us! (but bring your own beer cuz they don't sell it at crawfest, fyi.)
the following week, i'm doing a bunch of volunteer work out at the sign department barn at the fairgrounds for jazz fest. i've never volunteered in that area before (worked in the kids area for forever, but it's been a few years now) but i thought it could be fun and maybe even educational. i'm doing a total of four days over two weeks, pre-fest, so i'll let you know how it goes! hopefully i'll somehow earn some free tickets to get to go to jazz fest… cuz i sure can't afford to buy tickets.
and then on friday the 22nd, it's the opening for my friend jen's funky lil art show she hosts every year during jazz fest in her home. i don't think there's anything for me to link to in order to give you more info, but the opening is from 5:30 – 8:30pm and if you need her address just shoot me an email. if you miss the opening, you can stop by any jazz fest evening, after fest finishes. jen and her partner mary ann host an open house every single evening after fest, so the gallery is open from 6-9pm those days. there is always a party going on over there during jazz fest, and even if you aren't going to jazz fest itself, it's a fun place to hang out and people watch and partake of some of the festive spirit. i know i'll be there just about every day.
and that's all i got for april, art-wise. but i have a lot of stuff up in my etsy shop and i've been doing a bunch of sign commissions lately, so don't be shy if there's a sign you need in your life! just get in touch!
happy april!