mardi gras day was so much fun! relaxed, easy, no agenda really, just simple fun.
i didn't really get it together to have an actual costume, so instead i decided to go with the black and gold theme. i found an old pair of tuxedo pants i had cut off a few mardi gras ago that i had painted white dots down the striping on the side; i repainted them gold with silkscreen/fabric ink, which stood out much more than the white. and then had a last-minute, lundi gras late-night inspiration to use my "who dat!" stencil (that i use for my bottlecap signs) to put "who" on the right leg and "dat!" on the left, right below the knee, like i do with many of the stencil cut-offs that i sell. some black long-johns, gold/black stripey socks layered with some black ones, and my black and gold skull de lis t-shirt over a black long-sleeved thermal, and voila – instant "who dat" outfit.
i pulled out my ancient 1980's era fleuvogs that have become my defacto mardi gras boots for the past ten years – those poor boots have had all manner of beads hot-glued to them and glitter spray-adhesived to them – and gave them this year's color update (gold, of course!) and glittered and then lacquered the hell out of them! and then also found my cardboard glasses cut-outs – an old pair of 3-d glasses that i'd punched the colored lens out of – and gold glittered and lacquered the hell out of them too. (it's hard to wear a mask of any sort when you are almost legally blind without your glasses and can't wear contacts! so i devised this method of face-wear years ago, putting some sort of fun glasses over my regular glasses, so i can still see but still look festive!)
i've never worn a wig before in my life (i usually go the hat route), but ran out of time to devise some funky hat to go with my theme, so a blue page-boy wig pilfered from the ponce de leon mardi gras warehouse (thanks jen!) topped off the outfit. oh, and gold football/helmet beads from my friend theresa and a black football bead i'd found at plush appeal (the very last one!) to add a final touch.
it wasn't much, really, compared to all the wonder i witnessed in the quarter and the marigny that day, but at least i made some effort. (i didn't get any pics of myself other than this drunkity-drunk-drunk thelma and louise shot of me and my friend diane from much later in the day.)
we got up early, as we do, got dressed, picked up friends dix and lisa and headed to claiborne and jackson to catch the beginning of zulu. we were running a tad late – arriving right around 8:15am – but weren't worried because, well, zulu NEVER goes off on time. EXCEPT THIS YEAR!!! (did you notice that was a theme this year – all the parades seemed to go off on time and move along quickly without much delay? what's up with that?)Â  as we were parking, the lead royalty floats were already starting to roll. no worries, though, since zulu has like 400 million royalty floats (kings, queens, dukes, dutchesses, last year's kings, queens, dukes, dutchesses, etc. – it's endless!).
we got to our usual spot near willow and jackson (you need to go down jackson some because the riders aren't allowed to throw stuff until they make the turn off claiborne onto jackson) and had a lovely view. i love watching zulu there, and it was our friend lisa's first mardi gras and therefore her first zulu, so she got the full immersion experience – including a drunk guy falling down and nearly splitting his head open on the street behind us, bleeding everywhere. (ems was able to get to him and take him to the hospital, but he'd come to before they even got there – whew!) we didn't stay for all of zulu cuz it goes on forever and many of us had to pee (it's hard to find a restroom in that area), but i got some good photos of what we did see.
we left around 10am and miraculously got out of our parking spot and back onto earhart in no time. back to midcity, dropped off dix and lisa, back to the house to pee and let the dog out one more time, and then down to the marigny. another miracle – we found parking on rampart near st. roch without having too look hard at all, and had a lovely walk through the marigny over to the lamothe house on kerlerec. our gang was already assembled there, fried chicken already procured (and halfway eaten!), beer iced down, cold cuts gotten, thanks to friends d & k. it was perfect.
we arrived to the r bar intersection just in time to catch st. anne's coming through, taking lots of pics and seeing lots of fabulous costumes.
a while later, we strolled down into the quarter in an attempt to meet up with fae's derby wife, s'aint no lady, but to no avail. it was a fun sight-seeing tour, though, and we kept running into parts of st. anne's at every turn. i took this fabulous photo of my cute rose-covered girlfriend on chartres street: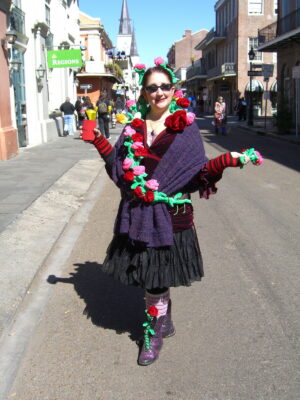 the rest of the afternoon becomes a bit blurry as i moved on to my fifth (or sixth or seventh? not sure how many i drank, really) beer, but i do know we made it back to the marigny, hung out some more on the corner by the r bar, hung out in the hotel room eating and drinking more, and then plopped ourselves down in our lawn chairs on kerlerec for the rest of the afternoon to people watch. it's my favorite part of mardi gras day, just relaxing in the sun, watching folks having a good time and enjoying all the costumes.
we left by about 4:30 i guess, and then got stuck in black mardi gras/under the interstate claiborne avenue chaos on the way out, which derailed us by about an hour. but it was all good. we were home by about 6 to watch the olympics, and i was passed out by 10pm. it was a good day.
(you can see all my mardi gras pics on my flickr page here.)